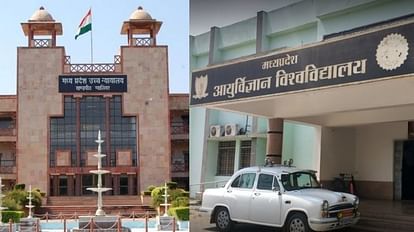 Madhya Pradesh High Court and MPMSU
– Photo: Amar Ujala
Expansion
The Madhya Pradesh High Court has ordered the MP Medical Science University (MPMSU) to admit three petitioner doctors in the PrePG examination. A double bench of High Court Chief Justice Ravi Vijay Kumar Malimath and Justice Vishal Mishra heard the petition of the doctors. The Jugalpeeth has issued a notice to the non-applicants seeking their reply.
Actually, MP Medical Science University had released the result late. For this reason, a petition was filed in the High Court by the students challenging their not being able to appear in the PrePG examination.
In the petition filed by Indore resident Shreya Jain and others, it was said that they had appeared in the MBBS final year examination conducted by the Medical Science University in May 2022. Its result was released by the university on 25 July 2022. After the result, he had to do one year internship, which would be completed on 25 July 2023.
Advocate Aditya Sanghi, appearing for the petitioners, told the bench that as per the notification of the NMC and the Central Government, it is necessary to complete the internship before June 30 for the PrePG examination of NEET. Due to the delayed release of the result by the University, the petitioner has to bear the brunt.

While hearing the petition, the couple bench granted interim relief to the petitioners. The Jugalpeeth has sought answers by issuing notices to the Health and Family Welfare Department, National Medical Commission, National Board of Examination in Medical Science and Medical University of the Central and State Governments.