In the present times, the best education is the first priority of every youth. The best education is the guarantee of a good career, that is why students not only from Uttar Pradesh but from all over the country come to study at LPU. There are many reasons to study here. This university is one of the best university in the country. High quality education, collaboration with various industries, state-of-the-art and secure campus and excellent placement and study abroad opportunities, LPU provides students with everything they need to make their dreams come true.
LPU has recently made its place in the list of top 200 universities in the Times Higher Education Impact Rankings 2021. It is one of the three Indian universities to do so. Let us inform that LPU also got the rank of second best Indian University in its first year itself. LPU has achieved this rank by beating many institutions of the country. This article will throw light on some of the important things that make LPU the best university in the country-
Excellent academia-industry linkages
Along with a host of learning opportunities, LPU also provides excellent industry experience to the students. LPU has started Center of Excellence with the best companies like Google, Cisco, Oracle, Microsoft, and many more. Students here get an opportunity to work directly with these companies, wherein students get industry experience through live projects. With this, students get information about the technology and skills going on in various industries at the present time, which helps them in their better career. LPU is one of the few educational institutions in the country to provide such experience and facilities.
Excellent placement is the identity of LPU
LPU has one of the best placement records in the country and that is why students from all over the country come here for admission. From Google to Microsoft, LPU students are employed in the best of companies with packages of Rs 1 crore and above. One of them is Tanya Arora who is the pass out of LPU 2020. He was selected in Microsoft on a package of 42 lakhs which is the highest for any fresher engineering student. Let's know what is Tanya's opinion- Every year more than 1400 companies come for placement in LPU, out of which more than 90% companies are multi national. Out of the companies that go for placements in IITs, IIMs and NITs, more than 110 companies come to LPU. For the last three years Cognizant alone has provided placements to more than 3300 students. LPU has also been awarded the title of 'Most Employable Students' by the country's top talent company Aspiring Minds. Let us know what the students have to say about the placement here-
For other information related to admission visit- https://bit.ly/36qAe0s
Secure campus and modern hostel facilities LPU is one of the most secure campuses in the country with more than 400 security personnel and more than thousand cameras. Here more than 4000 CCTV cameras are always available for surveillance. Along with this, there are many hostel options available for the students, which are equipped with many facilities like AC, cooler, and living alone. This campus is drug free and alcohol free. Also there are strict rules regarding ragging. For these reasons parents send their students to LPU from thousands of kilometers away without any worry or fear.
state-of-the-art infrastructure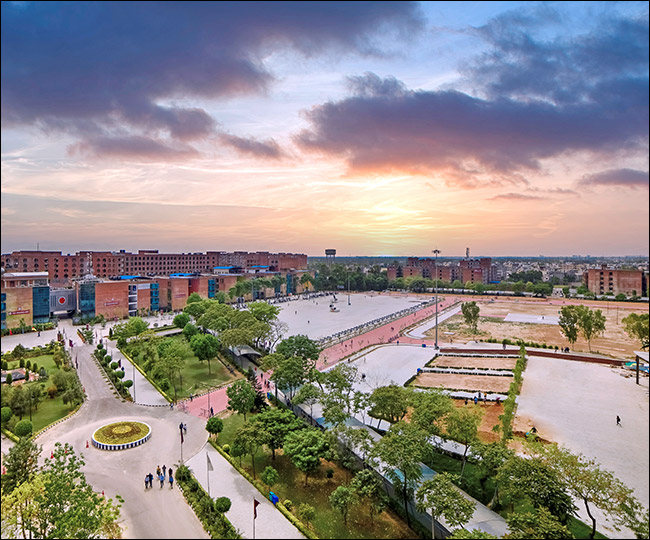 Spread over 300 acres, LPU campus in the form of a mini township provides excellent education facilities to the students. Apart from academic infrastructure, it has dedicated research and development block, IMAC lab, on campus shopping mall, on campus hospital, bank and ATM, innovation studio, incubation center, workshop, India's largest indoor sports arena, Olympic size swimming pool, and Equipped with many other features. Students away from their homes can enjoy home cooked food in the mess here.
study abroad opportunity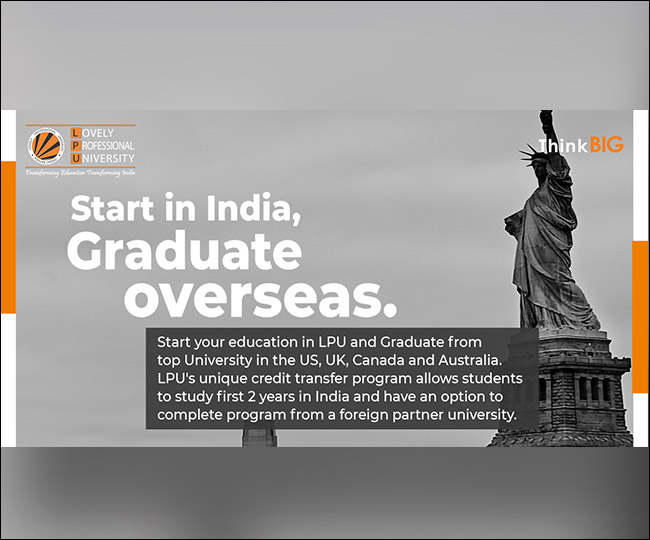 To achieve global excellence, LPU has tied up with more than 200 foreign universities for Student Referral Program. Through which students can study in foreign universities under the exchange program. In addition, LPU also offers a collaboration program in which students can study for 2 years at LPU and the next 2 years at international universities. This is a great opportunity for the youth who want to study abroad.
For other information related to admission visit- https://bit.ly/36qAe0s
Fees and Scholarship
LPU believes that no student should be deprived of quality education because of money. For this reason, the fees here are very less as compared to other private universities. Along with this, many scholarships are also provided to the students.
Get inspiration for startup
If you want to be a job creator rather than a job seeker, LPU is an ideal option for you. For this, LPU has Startup School and Incubation Center, where the university provides various startup ideas with facilities like university, office space, equipment, technology support and guidance of industry experts, through which youth give new impetus to their startup idea. Let us tell you that hundreds of startups have been launched by LPU's Startup School so far.
admission process
Online registration for admission in LPU has started. Keeping in mind the safety of the students, LPU has decided to conduct its entrance exam LPUNEST from home. This exam will be conducted online where students will be able to choose exam date and time through online slot booking mechanism. The special thing is that students can also get scholarship on the basis of LPUNEST. Also, students waiting for their 12th result can get provisional registration and scholarship on the basis of 10th result.
For more information about admission visit- https://bit.ly/36qAe0s
Disclaimer – This article is written by Brand Team.
Edited By: Nandini Dubey