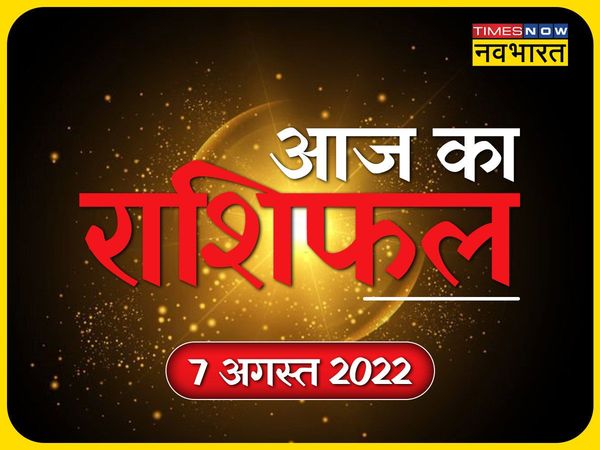 Horoscope Today 07 August 2022&nbsp
Horoscope Today 07 August 2022: Today the Moon is in Anuradha Nakshatra and is in Scorpio. Sun is in Cancer and Saturn is in Capricorn. Jupiter is in Pisces. Rest of the planetary positions remain the same. Today, the people of Cancer and Capricorn will get success in business and the people of Gemini will get new opportunities in the job. Today the people of Cancer and Capricorn will not be negligent towards their job due to the transit of Moon and Saturn. Let us now know the detailed horoscope of today.
Panchang Today (Today's Panchang) 07 August 2022
Aaj Ka Rashifal 07 August 2022 in Hindi
Aries horoscope
Today the effect of the eighth moon is auspicious. The tenth Saturn can give new responsibilities in the job. There will be tension regarding business and there is a possibility of dispute. There are chances of a pleasant journey. Red and green are good colors.
Taurus Horoscope
Today the seventh moon is auspicious. Time for success in politics. Money can come. Will move towards promotion in job. Green and red colors are good. Chant the Beej Mantra of Moon.
Gemini Horoscope
On this day, take any decision related to job change after thinking carefully. You can travel unnecessarily. Green and sky colors are auspicious. Donate black clothes and urad liquids of Rahu.
Cancer horoscope
Jupiter ninth and Moon are the karaka planets of the mind, which is auspicious in the fifth house today. Family will be busy in work. Red and white are good colors. Any outstanding money will be received. Worship Hanuman ji. Take blessings by touching the feet of the father.
Leo Horoscope
Fourth Moon and Cancer Sun are auspicious from this zodiac. The sixth Saturn will give benefits. It is not right to postpone any business plan today. Green and blue are good colors. Recite Shri Sukta and donate food.
Virgo horoscope
Sun is Cancer and Moon is second and Jupiter is transiting seventh. Will be happy with success in business. Offer Durva to Lord Ganesha. White
And purple color is auspicious. Feed jaggery to cow and donate urad.
Libra Horoscope
Sun is in tenth, Moon is in second and Saturn is in fifth transit. Job success is possible. Read Shri Sukta. Today you will get the support of friends of Taurus and Capricorn. White and green are good colors. Control the expenditure of money.
Scorpio Horoscope
Fifth Jupiter and ninth Sun are favorable. Moon is auspicious. Today is the day of political success. Capricorn friends are helpful for you today. Red and orange are good. Donate the material of Mars, wheat and jaggery.
sagittarius Horoscope
Today Saturn, Sun, Cancer and Moon are twelfth from this house. , There will be good news about the job. There are signs of progress in business with a new contract. Green and sky colors are auspicious. Donate urad and moong.
Capricorn Horoscope
Saturn will retrograde and the Moon will remain in benefic house in this zodiac. Guru is the third. Be careful about health. There is progress in education. You will be successful in business. Orange and red colors are auspicious.
Aquarius Horoscope
Guru is giving second auspicious results from this zodiac. The eleventh moon will give auspicious benefits. New works will start in Jamb. Mars and Sun will increase self-confidence. Green and blue colors are auspicious. Worship Hanuman ji. It is preferable to donate wheat and jaggery to Mars.
Pisces Horoscope
The Guru and the tenth moon transiting in this zodiac will give auspicious results by making beneficial yoga. Saturn is retrograde in Capricorn. Auspiciousness increases from the fourth Sun. Money is a sign of arrival. Will be happy about higher officials. Will be busy in religious work. Yellow and orange colors are auspicious.
Keywords: today's horoscope, today's horoscope Libra, today's horoscope Aries, today's horoscope Aquarius 2020, today's horoscope Capricorn, today's horoscope Leo, today's horoscope Dainik Bhaskar, today's horoscope of all zodiac signs, today's Horoscope Navbharat Times, today's horoscope Amar Ujala, today's horoscope NDTV, today's horoscope Hindustan Times, today's horoscope Indian Express