Ranchi, State Bureau. Amidst the growing Kovid-19 cases and strict restrictions across the country, migrant laborers of Jharkhand have been feared like they were last year. However, they are also worried about the hard-earned livelihood, so they are not willing to take any decision in a hurry. Migrant workers and their families are sharing similar agony by calling in the control room set up by the Jharkhand government. The process of slowing down phone calls and mapping phone calls in the control room has once again intensified amidst increasing cases of corona. So far this month (till 14 April) 535 calls from migrant workers and their families have come to the control room. Most of the phones are coming in the context of Maharashtra, Delhi and Chhattisgarh.
The problem of the workers has started to narrate some of the conditions of the last year. However, the control room counselors are trying their best to console the bewildered people and are telling the situation of the lockdown to be completely different from last year. Ranjit Pal of Jharkhand told the Pravasi Control Room that he is currently in Vasai-Virar, Maharashtra. He is ready to return to Jharkhand, but is unable to get a train ticket in the worst of circumstances.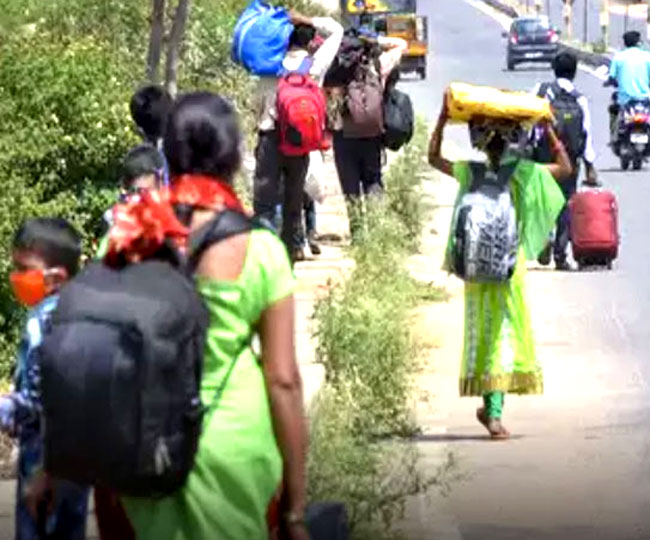 Rakesh Thakur of Jasidih, Deoghar is in Mumbai, Maharashtra. They run a salon. He said that salons are most affected during the lockout. If the situation does not improve in a few days, he will plan to return to Jharkhand. Riyaz of Godda district said that he is working in an embroidery company in Maharashtra. When asked, he told that he was returning back to Jharkhand.
Many migrant workers are not willing to return, companies are supporting
Jalil Ansari of Garhwa district and two of his associates are working in a company in Ambikapur in Chhattisgarh. Talking to the State Migrant Control Room, he said that his company is still running and is bearing his expenses. If the situation worsens, they will plan ahead accordingly. Manohar Hussain of Deoghar is working in a textile company in Mumbai, Maharashtra.
When asked by the State Migrant Control Room, they said that their company was still operational and they were not planning to return to Jharkhand at present. Manoj Kumar of Godda district is working on a construction site in Delhi. During the mapping call, he stated that he is not currently planning to return to Jharkhand. Kushalal Paswan of Hazaribagh district is currently working as an ombudsman operator in Maharashtra. He told that his company is still running and he has no problems so far.
Migrants are also seeking livelihood
Krishna Jamuda of East Singhbhum district of Jharkhand was employed in the construction of the first railway line in Raigad district of Chhattisgarh. During the mapping call to the control room, he said that he is currently at home in Jharkhand and unemployed. He has demanded employment from the state government. Sani Raza of Ramgarh district is a mason, calling the control room and demanding employment.
Sarfaraz of Deoghar district was formerly working in a textile company in Pune. It is now in Jharkhand. He has experience of working in single and double needle machines and has also sought work from the state government. Nasim Akhtar of Chatra district of Jharkhand was earlier working as a private school teacher in Mumbai, Maharashtra. Currently he is in Jharkhand and working as a laborer, he has urged the state government to provide him immediate employment.

Congress in favor of increasing toughness on unnecessary traffic

The Congress has also supported the government amidst the possibility of being strict about Corona and said that it is with the government for any kind of strictness regarding unnecessary traffic. Jharkhand Pradesh Congress President Dr. Rameshwar Oraon has said that the Congress is in favor of strict decision without affecting the business in the state.

Party does not want to stop any kind of business

He said that the party is in favor of increasing the strictness on unnecessary traffic and in this context is with the decisions of the government. Before the Chief Minister's review meeting on Thursday evening, Dr. Oraon also advised the Congress personnel to take necessary precautions. He indicated that the state government may also take a decision in the coming days to reduce unnecessary economic expenses as was taken last time.
Learn all the big news in short and get e-paper, audio news, and other service, download Jagran app